Founded in 1990 by Doug Brewer, Brewer Heating, Inc. is a family-owned and operated HVAC company deeply rooted in the values of faith, integrity, and exceptional service. We proudly serve customers in Fond du Lac, Green Lake, Winnebago, Outagamie, Marquette, and Waushara counties. Over the years, our purchases of Ripon Sheet Metal, Berlin Heating & Cooling, and Central Heating & Cooling have marked significant milestones; allowing us to extend our service range and further grow our customer family.
At Brewer Heating, family is at the core of our business. As a true family endeavor, we are excited to share that the next generation is joining us to continue our legacy. Johnny and Ryan Brewer, the sons of Doug and Sally Brewer, are returning to the family business after completing their college degrees. Their dedication and commitment to upholding our values will play a pivotal role in the transition into the second generation of Brewer Heating.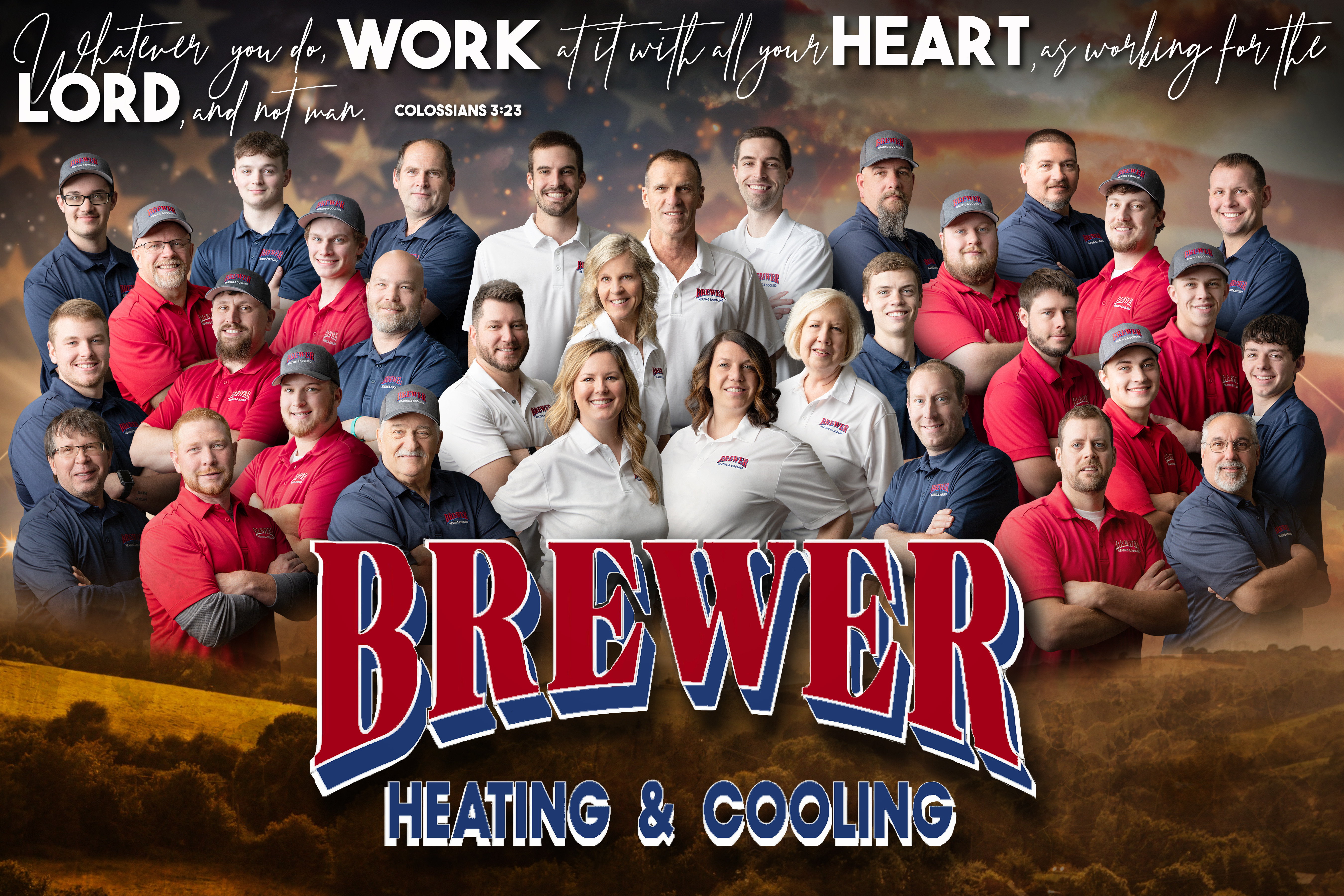 As experts in the HVAC industry, we have extensive knowledge and experience working with all brands of heating and cooling equipment. Our team is trained and equipped to provide professional installations, repairs, and maintenance services.
With an unwavering commitment to our customers, we strive to provide reliable and top-quality HVAC solutions. Our team of highly skilled professionals, with over 300 years of combined HVAC experience, understand the unique needs of each community we serve. We take pride in delivering personalized and efficient heating and cooling services, working on all brands of equipment to ensure the comfort and satisfaction of our valued customers.
As we embark on this new chapter, we remain dedicated to the values that have defined Brewer Heating for over three decades. Our focus is on preserving our longstanding reputation as a trusted HVAC provider, offering reliable equipment installations, expert service on all brands, and unparalleled customer care. Colossians 3:23 is the verse we live by: "Whatever you do, work at it with all your heart, as if you are working for the Lord and not for men."
When you choose Brewer Heating, you're not just selecting an HVAC company – you're becoming a part of our extended family. Experience the difference of working with a family-owned business that maintains a passion for service, upholds our values, and treats the members of our customer family the way we would want to be treated. From Montello to Appleton, Fond du Lac to Plainfield, and everywhere in between, trust Brewer Heating to provide you with reliable HVAC solutions and exceptional customer service.
Work With Our Team
Are you in need of HVAC services? Let our team give you a hand. You can reach out to schedule services, including:
Brewer Heating, Inc uses only the best systems to keep your home comfortable and clean. Reach out to schedule your initial consultation today.
Need Local Service? Call 920-748-6494
Brewer Heating, Inc is your friendly local contractor servicing most brands of equipment and proudly installing industry leading systems.